Formed Rubber Hoses for
Manufacturers
Engineered shaped hoses for engines, vehicles and domestic appliances.
Tailored for individual applications
AE Rubber (UK) Ltd supplies mandrel formed / shaped hoses in a wide spectrum of materials, with or without reinforcing to suit application and customer requirement. Hose may be produced in one polymer or co-extruded to offer different properties for the inside and outside surfaces of the hose. We can supply with clips, brackets and protective sleeve when required.
Automotive and engine applications are:
Engine cooling hose – Overflow pipe – Heater hose –
Drain hose – Engine breather – Screen wash filler –
Fuel filler – Air intake – AdBlue – Fuel breather
In domestic appliances typical applications are:
Water fill hose – Breather pipe
Water drain hose – Pump connection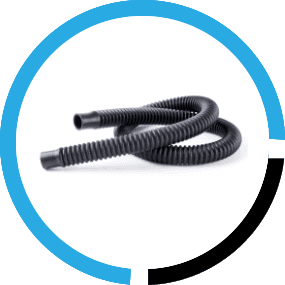 Flexible hoses
We can produce flexible hoses
by various methods. These can
be rubber only for liquids and
gasses or reinforced with steel
and fabric to handle solids.
Air intake duct
Mandrel formed air intake hose
is ideal for special applications
and small vehicle runs. We can use
fabric reinforcing and
stainless steel coils to improve
performance.
Already used as OEM fit for many vehicle platforms – let AE Rubber (UK) Ltd quote for your hoses.
For a wide range of formed rubber hoses, get in touch with AE Rubber (UK) Ltd.

AE Rubber (UK) Ltd, Talon Court, Eagle Business Park, Yaxley, Peterborough, PE7 3FW, United Kingdom